Für die deutsche Version dieser Seite, klick hier.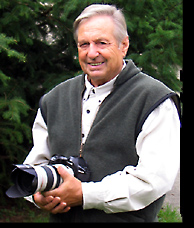 Joachim Ruhstein was born in Breslau (Lower Silesia) in Germany in 1935. Together with his mother and sister he escaped the ring the Russians had formed around his hometown during the last months of the Second World War and settled finally in 1945 in Lower Bavaria. There Joachim Ruhstein spent the majority of his youth. Often out on discovery in the surrounding woods of that time he soon developed an avid interest in the living forest creatures, the fields and the river plains.
A big nearby river contributed to his becoming a passionate sport fisherman. Through the much-loved fishing, which continues to fascinate Joachim, who is in his late-70s, and every free minute spent in nature he later discovered wildlife photography and film. The technical and biological knowledge of this amateur was self-acquired with the years.
All wildlife photographs and films were shot in open nature, often under big strains. He often spent hours in a camouflaged tent awaiting birds or half the night on the tree-stand waiting for the badger to leave his den, and years later in the Canadian wild to get – often at almost too short a distance – a good picture of a black bear or grizzly.

The amateur's pictures and films later found acknowledgement both domestically and internationally.
Publications in various magazines and books (mostly on sport fishing) since approximately 1970:
• Participant of the 34th FESTIVAL INTERNATIONALE FILM DELLA
MONTAGNA E DELL' ESPLORAZIONE "CITTA' DI TRENTO" Italy 1986 with "DAS WIESEL" (The Weasel) (16mm Film)
• Bad Dürkheimer INTERNATIONALES NATUR FILMVESTIVAL FUR AMATEURE Pfalzmuseum für Naturkunde "Heimliche Räuber" (Secret Robbers) (16mm Film) 1st Place Goldener Auerhahn (Golden Woodgrouse) 1987
• 4th NATURALE Bad Dürkheimer INTERNATIONALES NATURFILMFESTIVAL FUR AMATEURE Pfalzmuseum für Naturkunde
"EIN VOGELJAHR AM AMMERSEE" (A Birds' Year at the Ammersee)
(45Min. 16mm Film)
1st Place Goldener Auerhahn 1988
• Special Prize of the German Union for the Protection of Birds (DBV) 1988
• NATURALE Bad Dürkheimer INTERN. NATURFILMFESTIVAL
Pfalzmuseum für Naturkunde "AUF DEN SPUREN PEER GYNT'S"
(On the Tracks of Peer Gynt) (45 Min. 16mm Film)
1st Order Bronze Metal 1992
• Financial Support of the Association of Fisheries of Upper Bavaria for the documentary:
" VON CORMORANEN UND FISCHERN" (Of Cormorants and Fishermen)
• The film "The Weasel" was broadcast by the Bavarian and North German TV stations BR and NDR.
• The film "A Bird's Year at the Ammersee" ran on the Bavarian and Austrian TV stations BR and ORF.
• The film "On the Tracks of Peer Gynt" (A contribution about the animal and plant world of the Norwegian mountains) was acquired by the Mexican television.
• In the early nineties an article about J. Ruhstein appeared in a newspaper from Upper Bavaria. For the English version click here! (pdf file, 147 kb)

After concluding his career as a Consulting Structural Engineer Joachim Ruhstein now spends his old age with his wife and daughter on Vancouver Island, BC, Canada. Nearly as crazy about fishing as at the beginning more than half a century ago in Bavaria (Germany), he now mostly goes after the salmon in the Pacific Ocean. Regarding wildlife photography he is now particularly fascinated by bears. One of his pictures of an especially blond grizzly bear is displayed inside the Comox Valley International Airport, and also alongside highway 19 as a reference for tourists.
This website was created in order to share a fascination, engagement, respect and love for nature and maybe to bring joy to those who do not have the benefit of such opportunities to view wildlife.
The sight of a free living animal that shares its presence with us, even if often only for seconds, is a strong experience and worth all efforts.
Für die deutsche Version dieser Seite, klick hier.